The hunting blind with a vision
The amazing 360 degree view from inside the hunting blind is something one must experience for themselves to fully appreciate.
It is made more comfortable and quiet by the carpeted floor and walls which are included in our Pro Series model.
Our archery window (shown right) is an upgrade that will increase your vertical viewing space and make it easier to maneuver for the shot.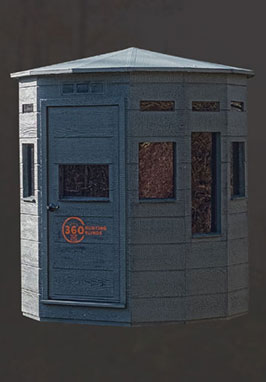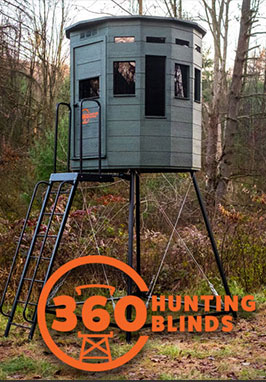 "We were in the 360 Blind for about 5 mins and my son shot this 8 pointer! He was behind us and if not for the window configuration we probably wouldn't have gotten an shot"
Skip L. - Mineral Point, WI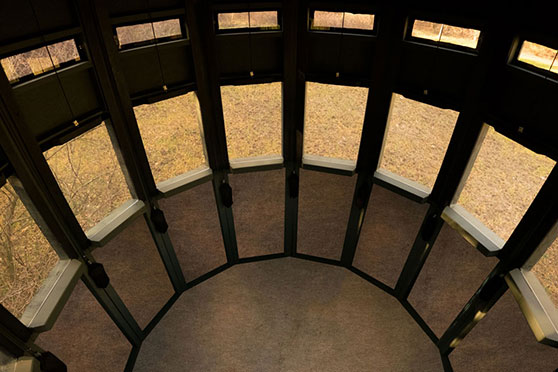 Pro Series
The Pro Series has everything we include in the Standard series with the addition of making our oversized archery windows an included feature.
We also include heavy duty outdoor carpet which covers the floor and the lower section of each wall up to the bottom of the window sill for an added noise barrier and comfort.
Tower Stands
We offer tower stand kits available for your 360 Hunting Blind. We can also build custom tower stands designed to meet your specific needs. Our kits ship with everything you need to elevate and secure your blind.
| Features | Included | Upgrade Option |
| --- | --- | --- |
| Features Included Upgrade Option | | |
| Eight 12?x18? tinted gun/crossbow windows | | |
| Four 12?x32? Archery window(s) | | |
| One 18?x12? window in door | | |
| Lockable door latch | | |
| 4?x12? peep windows | | |
| Four, 4×4 pockets for stand posts | | |
| Padded shooting rails at each window | | |
| Carpeted floor & walls up to bottom of windows (Pro Series) | | |
| Integrated Ventilation Above Door | | |
| Insulated floor and walls | | |
| Tower stand | | |
| Steps with railing | | |
Wooden Tower Stand
Sturdy, pressure treated construction, designed to blend into the environment.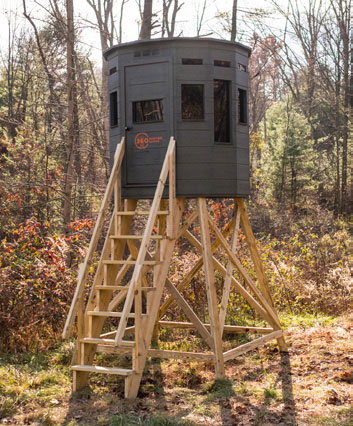 Metal Tower Stand
Long lasting, durable, and powder coated for many years of maintenance free use.